We finally managed to hold an AGM on 24th November 2021, having had to postpone the meeting for some considerable time and with a last-minute change of venue.
Our usual meeting place, Bebington Civic Centre, was not available but thankfully we were able to book Mayer Hall in Bebington, who were able to accommodate us.
The minutes of the previous meeting were approved, and the reports of the Chairman and Treasurer were received. All the Trustees were re-elected and a proposal to move the date of future AGMs was approved.
The Hon Chairman, Steve Harris, was presented with a gift in appreciation of his many years of devotion and work on behalf of the Trust.
After the refreshment break, Steve Harris presented an enlightening overview of the work that the Trust had been able to achieve during the restrictions that Covid had imposed, accompanied by photographs and short videos.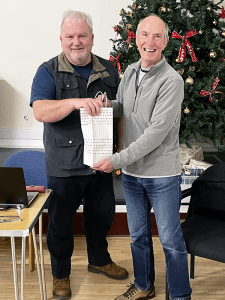 The data supplied to the British Trust for Ornithology by Wirral Barn Owl Trust showed a sharp decline in the number of active nest sites and chicks (16) raised during 2021, at least half of those recorded the previous year. It was also apparent that all the breeding occurred in the South of the Wirral with none in the North, including our resident live stream female Barn Owl who rejected any male advances.
Despite the hard work carried out by the fieldwork team, there is still much to be done, with an increasing backlog of repairs to and replacement of nest boxes.
If you are able and would like to become more involved with the Trust's activities, we would be delighted to hear from you, you can contact us through the website.
Thank you for your continued support.
Regards
WBOT.