NEST BOX PROGRAMME
The early part of the year has seen the team busy with replacing dilapidated Barn Owl Nest boxes and installing new boxes at fresh sites across the Wirral. The decision to use Eco boxes, made of Stokboard, has had a significant impact on our operation.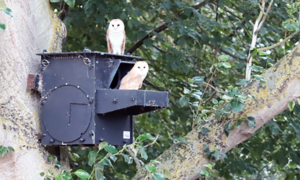 We source Stokboard Nest Boxes from the Barn Owl Centre in Gloucester, ready assembled, which saves a lot of construction work, they are much lighter in weight and the material is long-lasting. The installation process is far easier and much less strenuous, the only additional requirement is the fitting of an inspection camera.
Inevitably the list of boxes that need replacing grows and we have numerous requests for boxes at additional sites, however, this part of our operation is now on hold as we are in the middle of the breeding season.
BREEDING SEASON
We are pleased to report that this year the season has been more productive, with previously unused nesting sites coming to fruition and some of the regular sites being successful. On average the success rate has been 2/3 chicks per site with one box producing 6 chicks.
The chicks are recovered from the box, under BTO license, weighed, health checked, and fitted with an identification ring.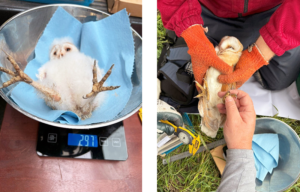 After the ringer safely returns them to the nest box, the recorded information is forwarded by WBOT to the British Trust for Ornithology (BTO) who place it on the national database and any further sightings of the bird can be researched against the database. As can be seen from the photographs the size and age of the chicks can vary greatly and we will revisit the nest sites to report on their progress.
Currently, 17 nest sites have been productive with 58 young ringed, 3 new adults ringed, and 4 adults re-trapped, having been previously ringed. Again, we are experiencing a North/South divide on the Wirral, with 2 exceptions the productive nests are all situated in the South, the reasons could be many but, at the moment, are unexplained.
So up to now, a much better year than last year, and as always, we are grateful for your sightings which coupled with our monitoring enable us to record these wonderful creatures.
WIRRAL COUNTRY PARK
The 'live stream' from the nest site at Wirral Country Park has been suspended for two specific reasons, the nest has not been occupied for nearly 18 months and as a charity, we cannot justify paying for a broadband connection to view an empty nest when the donations can be better spent on new nest boxes.
We do not know what has happened to the female barn owl which has successfully bred in the box for several years, or her mate and we can only speculate as to their fate. The nest box is still accessible and when and if the barn owls return, we will reinstate the live stream subject to suitable funding/sponsorship is available.
Regards
WBOT