Replacement Nest Box
On Sunday 15th August the team relaced an old nest box in Chorlton, South Wirral with one of our new ECO boxes purchased from the Barn Owl Centre.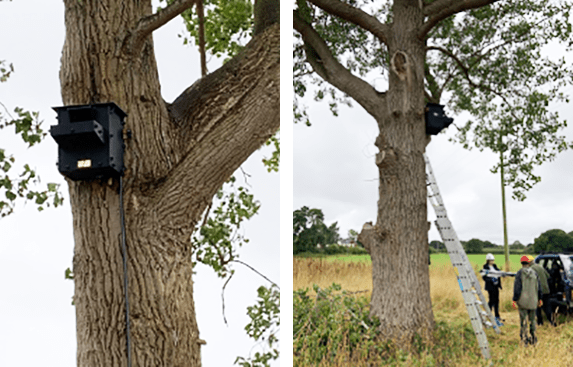 The box replaces the one which produced 2 healthy chicks this year and was funded by a very generous lady in memory of her late mother.
Good News
Some of you may remember that we had a crisis at one of our pole boxes last month, where the chicks were clearly overheated in that spell of hot weather.
https://www.wirralbarnowltrust.org/wp-content/uploads/2021/07/hot-chicks.mp4?_=1
The Wirral Barn Owl Trust and the landowner took various steps to alleviate the problem over several days. The box was checked again on Sunday (15th) and we are pleased to report that all 3 chicks have survived and are now nearly ready to fledge.
Thank You
We are extremely grateful to our supporters for their generosity and to our dedicated team of volunteers, without whose help these operations would not be possible.
Kind Regards